Are you looking for an industry specialist jobs board to simply place your job adverts on?
Do you struggle to find relevant and quality applicants?
We can help you!
​At Agricultural and Farming Jobs, we offer a well-established online jobs board specifically designed for businesses within our niche sectors to advertise their jobs on.
We're passionate about supporting our specialist divisions and firmly believe that recruitment services should be available to everyone, regardless of their requirements and budget.
Our specialist sectors include;
Agriculture, Farming, Horticulture, Food and Fresh Produce, Pet, Vet and Animal Health, Machinery, Parts and Engineering,
Agro-Chemicals, Fertilisers and Seeds, Specialist Education, Software and Technology.
Once your job advert is placed on the website www.agriFJ.co.uk under your chosen divisions, all of the candidate
applications will be sent directly to you, enabling you to manage your own recruitment project.
Your job advert will also be sent by email to all of the thousands of candidates who are registered for our daily job alerts,
notifying them of your job opportunity.
Our advertising consultant will advise you on the best advertising service to fulfil your recruitment needs.
JOB ADVERTISING OPTIONS
Advertise your Job Advert on our specialist website; www.agriFJ.co.uk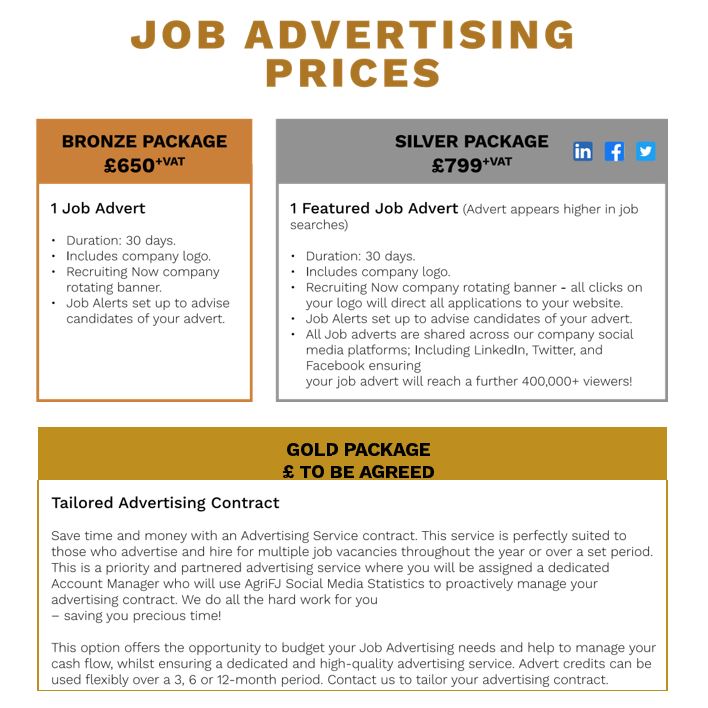 Our ultimate aim is to SAVE YOU TIME AND MONEY!
If you'd like to Advertise your Job Vacancies please contact us for further information; 01527 878550.