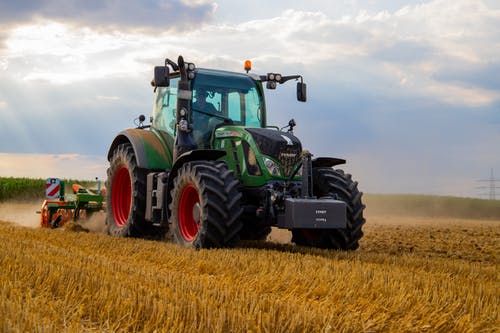 This week we are looking into the role of a Tractor Driver – also known as a Tractor Operator, Arable Operator or Sprayer Operator. We are going to be looking further into a Tractor Drivers job description, working conditions, personal qualities, skills, qualifications and training, salary and benefits.
Job Description
Agricultural Tractor Drivers carry out various activities such as harvesting, ploughing and drilling – as well as general maintenance/cleanliness of the vehicle itself.
Tractor Drivers normally work on a farm but can sometimes work for agricultural contractors. Tractor Drivers may be required to work on 'mixed' farms to work on livestock and arable estates.
There are various different activities which need to be carried out on an arable farm, which require a range of implements that can be attached to the tractor. For example - the tractor may need to spread fertiliser – so by attaching an implement it helps to lift, carry and pull rollers along the ground. It is very important that a Tractor Driver knows how to operate the vehicle and its implements, and understand the requirements for arable operations for all weathering conditions, crop stages and soil conditions.
Working Conditions
Generally Tractor Drivers work at least 39 hours per week, and are required all year around, on an arable farm. Longer hours may be required during spring and autumn, when planting crops and preparing soil throughout the harvest period. Early morning, late evenings and weekend work is often required during these busier periods as this is the best time of year for weather conditions.
Skills
•Preparation of harvest crops
•Planting of crops
•Control of vegetation
•Operation of the tractor and its implements
•Preparation and fittings of implements
•Maintenance and repair of the vehicle
•Maintenance of the storage area and harvest crops
•Preparation of the vehicle and its parts for maintenance
Personal Qualities
•Good team player
•Self-motivated
•Work on your own initiative
•Flexible
•Good mobility
Qualifications and Training
There are various training courses and qualifications that can help you become a Tractor Driver – qualifications required to become a Tractor Driver are:
•Level 1 Award in Preparation and operation of a tractor
•Level 2 Award in Agricultural Tractor Driving and related operations
•Level 2 Certificate, Extended Certificate and Diploma in Agriculture
•Level 2 Certificate in Land-Based Activities
•Level 2 Diploma in Work-Based Agriculture
To become a Tractor Driver in Scotland, either of the following qualifications are required:
•Modern Apprenticeship in Agriculture
•National Certificate in Agriculture
•National Certificate in Rural Skills
•SVQ Level 2 in Agriculture
Salary and Benefits
Entry level Tractor Drivers, age 19+ can earn between £13,000 - £18,000 per year.
Experienced Tractor Drivers can earn between £19,000 - £22,000 per year.
Overtime is normally available.
Most farm workers are given accommodation.
*Salary figures are a guide only – and depend on the company and the employee
If you are looking for a new job opportunity to become a Tractor Driver within the UK agricultural and farming industry, please register free as a job seeker with us today – we could have the perfect job for you!