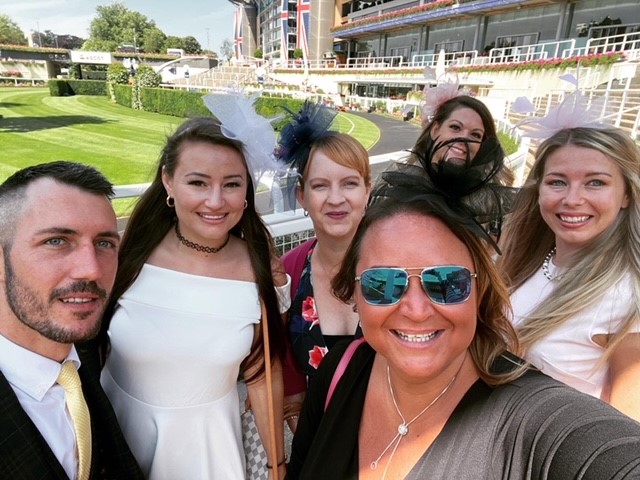 Last Friday ​the team at Agricultural and Farming Jobs had the absolute pleasure of attending Ascot Races for King Georges Day. This was an incentive that the team had achieved by hitting their Quarter 1 sales targets from the start of this year. (Well done, Team!)
It was a fabulous day right from the very get go, with a limousine picking them all up to transport them down to Ascot, they certainly travelled down in style with a bottle or two of bubbly and lots of laughing. They certainly got lucky with the weather too, as the sun was shining for the entire day!
The entire team made such an effort with their outfits, and they all looked incredible in their dresses and suits. Louise was especially pleased that her dress matched the flower arrangements at Ascot!
The team had one of the best VIP boxes which was perfectly situated right over the finish line up on the top floor, which provided an incredible view of the racecourse and the all-important finish line!
Along with their great corporate box and the perfect weather, the team also got lucky with many of the races and they each won some money which just completed the perfect day! Kate and Jodie screamed the place down when they both won big on the first race after betting on an outsider! Come on!
After the challenging two years that the country and world has experienced, it was such a great moment to be finally surrounded by friends and colleagues and at one of the most prestigious events in England. Life felt quite normal again for the day.
All round it was a well-deserved day out, keep up all your hard work guys! I wonder what the big incentive will be for next year for Agri FJ?
Here are some of the things the team had to say about their day out:
Louise Palmer (Sales & Operations Manager)
"It was great to spend such a fantastic day with the rest of the team away from the office. It was good to see how relationships were strengthened, particularly after the team having worked remotely for several months. The atmosphere was buzzing, and we were treated like royalty, with all our needs expertly catered for from start to finish. An unforgettable experience."
Emma Ashmore (Recruitment Consultant)
"Last Friday we were treated to a truly special and spectacular team day out at Ascot. From start to finish our day was filled with fun, laughter, happiness, and celebrations. Although I didn't win big on the races, I felt like a true winner being a part of a fantastic team and being given the opportunity to experience a day as amazing as Ascot. Thank you so much Kate, I will be forever grateful."
Kate Moxon (CEO)
''What a day! From the moment I pulled up at the office and saw all my team suited, booted and with heels on – I truly felt so proud of everyone and my team! We all get on so so well (like a big family!) and we had the best time out having fun together – just what we all needed and deserved! The past 18 months have been a real rollercoaster for us all and being able to finally have most of my team together was absolutely fantastic! Some of my team members haven't had chance to fully get to know each other due to working remotely and recently joining us therefore the day just connected everyone – it was brilliant to see. Growing my team of hard working, professional yet personable people is top of the agenda moving forward for the business and a big part of that for me is enjoying time together, connected as a team of people with similar values and rewarding everyone for their hard work! I am so excited for the future ahead for Agri FJ. There is no one else like us!''