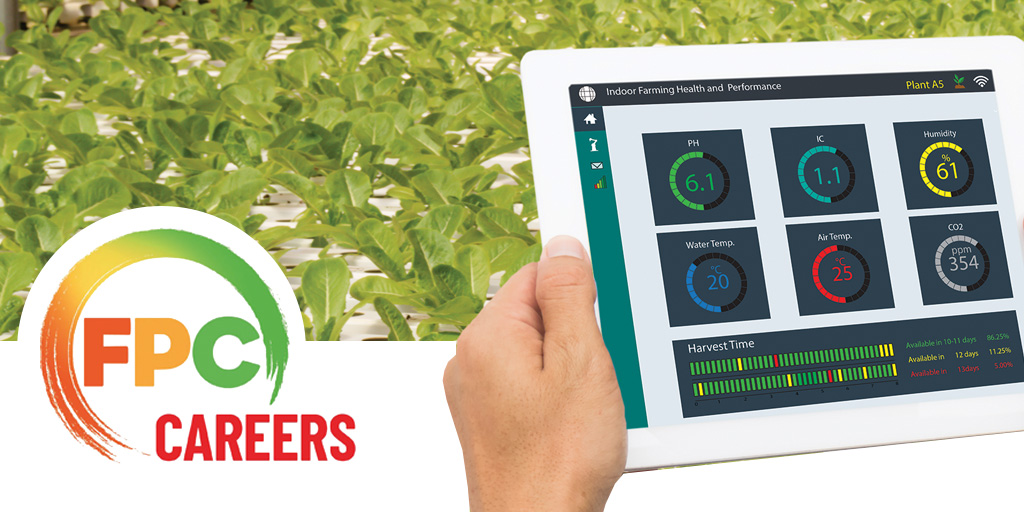 ​Agricultural and Farming Jobs are delighted to announce that we have partnered with The Fresh Produce Consortium and FPC Careers 2021 - This unique career event on 4 November 2021 at the Lincolnshire Showground will connect today's up-and-coming talent with the food chain's best employers. The event will promote careers in fresh produce and cut flowers to under-graduates and post-graduates from all disciplines, not just horticulture.
The Fresh Produce Consortium (FPC), in conjunction with the University of Lincoln Institute for Agri-Food Technology, presents a unique recruitment fair to showcase a diverse range of career opportunities to undergraduates and postgraduates from all academic disciplines, as well as jobseekers in the 18-30 age group seeking a first or second role. At FPC Careers 2021, leading employers from the fresh produce, cut flower and related sectors will present the breadth of job paths and the latest opportunities available for young recruits to join a forward-thinking, diverse, and cutting-edge industry.
The UK food supply chain is facing recruitment challenges across the board at a critical time when the industry is pushing forward with ambitious developments to guarantee its competitiveness and longevity for customers and consumers. Innovations such as Artificial Intelligence, robotics, automation, vertical farming, and other ground-breaking technologies have the potential to propel the industry to greatness and thrive like never before. To maximise this opportunity, the fresh produce, cut flower and related sectors need to attract the best young talent entering the job market. We need to fill the roles that will preserve and advance this great industry.
Via fun and fulfilling activities, FPC Careers will showcase the diverse range of opportunities that the fresh produce, cut flower, plant and related sectors can offer talented young people from all academic backgrounds. Exhibitors, meanwhile, will have the unique chance to meet more candidates in one day than in weeks of interviewing, and ahead of the traditional recruitment window!
It's an event that cannot be missed! Attendance is free and you can register here.
For more information, please visit https://freshproduce.org.uk/events/fpc-careers
The exciting and fast-moving field of Food and Fresh Produce provides a plethora of opportunities for dynamic and proactive professionals at all skill levels. This is something we understand. Here at Agricultural and Farming Jobs we have a specialist team that provides an excellent recruitment service, utilising our wealth of industry knowledge and years of collective recruitment experience to source specialist candidates for various Food and Fresh Produce Jobs.
We recruit for many specialists Food, Fresh Produce and Supermarket organisations, including Fish, Meat, Dairy, Fruit, Vegetables, Salads, Nuts, Seeds, Tropical Produce, Beverages, Grains and Pulses, and so much more.
If this is something that interests, you then please don't hesitate to get in touch via 01527 878 550 or visit https://www.agrifj.co.uk/ for more information.