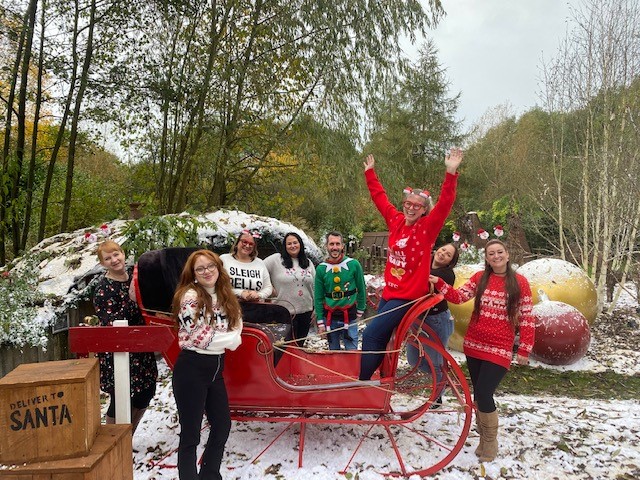 ​Here at Agricultural and Farming Jobs, we're all self-acclaimed Christmas fanatics. I, myself, openly admitted to our Managing Director Kate in my interview that I would be a Christmas Elf given half the chance! Suffice to say we were all over the moon when Kate suggested getting the festivities started with a Christmas card photoshoot at The Enchanted Gardens at Webbs of Wychbold. We definitely didn't need to be asked twice as we all put on our favourite Christmas jumper and best smiles, we were ready for a morning of festive fun and posing.
Webbs have been very busy extending their beautiful Riverside Gardens into the woodland beyond to create a magical outdoor festive light trail. We made our way through the trail, stopping for pictures at the glowing toadstools in the fairy gardens, the illuminated gingerbread house and through the woods into Hansel & Gretel's cottage. My favourite part of The Enchanted Garden, to no one's surprise, was without a doubt The North Pole to see the elves workshop and Santa's house. All in all, it was an absolutely magical morning at Webbs, and what a smashing start to the festive period.
The Team and I loved going through the pictures afterwards and choosing our favourite to send off to our very own Christmas Elves to get made into personalised Christmas cards to send out to our clients, candidates, and suppliers. We posted on LinkedIn for you all to vote for your favourites and have sent the most popular designs off to the printers. Make sure to keep an eye out in your mailbox for a card from Agri FJ and have a giggle at our expense!
Huge thank you to the fabulous team at Webbs Garden Centre for allowing us into The Enchanted Garden for a morning of galivanting and general merriment!
If you find yourself looking for a new challenge or need help to find the perfect fit for your team, please don't hesitate to get in touch. Alternatively, if you think you'd like to join the Christmas elves, please head over to the 'Join Us' page.
Please contact Cara Lloyd on; 📞 07521 089 223 | 📧 Admin@agriFJ.co.uk | ☎️ 01527 878 550