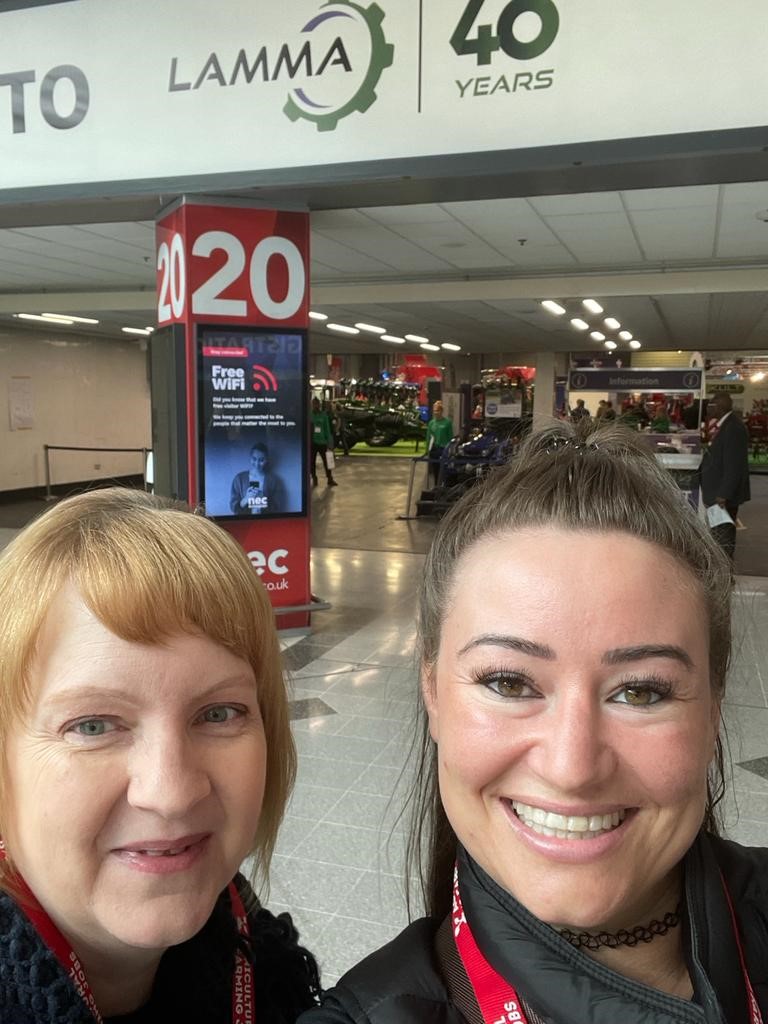 ​Agricultural and Farming Jobs attended the LAMMA show on Thursday 5th May 2022. Our two representatives Louise Palmer our Sales and Operations Manager, and Sophie Ashmore our Principal Recruitment Manager had a great time at the event, developing their industry knowledge and meeting new and existing clients.
You can read more about their personal experiences of the event below…
Louise said:
"I can't tell you how great it was to be out at an Agricultural machinery event again and meeting clients and candidates old and new face to face! I last attended LAMMA in 2019 and it's been a long wait for LAMMA 2022. I was able to chat to clients and candidates I had worked with over the last 3 years, but whom I had never met. It's a great way to enhance a working relationship and find out about future recruitment plans. For anyone who hasn't had the pleasure of attending a LAMMA show, the event is spread over numerous halls. The size of the show is great for the 'steps'! My colleague Sophie Ashmore and I must have walked miles. We only stopped when we quite literally dropped. We were touched by the warm welcome we had on the stands when we introduced ourselves as the Agricultural and Farming Jobs representatives. Everyone had time for us, and the hospitality was amazing. The attendance wasn't quite at pre pandemic levels however, this was always going to be a difficult time of the year for farmers to be able to get away from their farms. LAMMA 2023 has been scheduled for January, so this should get things back on track. This was a thoroughly enjoyable and productive event that I hope will bring in future business and cement excellent working relationships for Agricultural and Farming Jobs."
Sophie said:
"Louise and I had a fantastic day out at LAMMA 2022 last week. It was great to be out and about meeting with our farm machinery clients – both old and new. It was also great to meet with the candidates that I have successfully placed into roles with various farm machinery companies that I regularly recruit for – and for those candidates to be so happy and thriving in their new positions. It was amazing to see the wide range of agricultural and farming machinery set-up. LAMMA is by far my favourite agricultural and farming event / exhibition to attend, it's nice and local, under-cover so it doesn't matter what the weather is, and I love to see the farm machinery set up. I thoroughly enjoy being amongst the buzzing atmosphere of farm machinery dealers and manufacturers all networking. A great day out, that I would highly recommend, and I very much look forward to attending next year!"
​
The LAMMA show was enjoyed by both our Agricultural and Farming Jobs representatives, and we look forward to attending the LAMMA show in 2023! We hope to see you there too.
If you have a job role within the Agricultural machinery industry that you need recruiting for, please contact Sophie Ashmore on: 07718 425142 or email: Sophie@AgriFJ.co.uk
Alternatively, if you would like to advertise one of your job roles on our specialist jobs board, please contact our team on: 01527 878550.
​