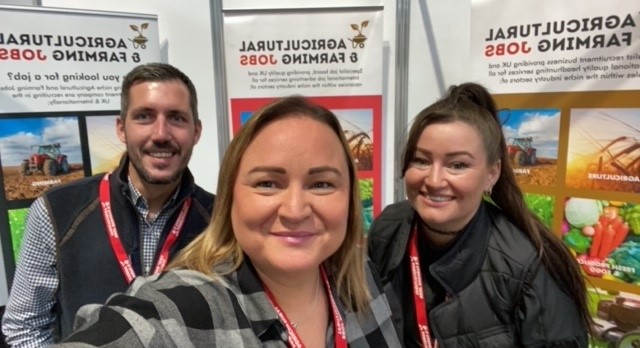 ​This year's Farm Business Innovation Show was held on Wednesday 2nd November – Thursday 3rd November 2022 at the NEC in Birmingham. Agricultural and Farming Jobs were located at Stand FM790 this year, and the team thoroughly enjoyed meeting all our visitors. Our team were able to meet some familiar faces at this year's show, accompanied by a lot of new faces which meant we have built up some brand-new relationships. Please keep reading to find out how each team member found their experience at this year's Farm Business Innovation Show.
Our Managing Director Kate Moxon attended this year's show on both days, and here's what she said about her experience. "I thoroughly enjoyed exhibiting on behalf of Agricultural and Farming Jobs at the Farm Business Innovation Show again this year. Although the footfall and visitors I didn't think was quite as many as last year's event, it was however great to meet up with many new visitors to the stand who were enquiring about ways that we could support them to recruit staff for their businesses. We also had many visitors to the stand who were wanting careers support and ideas of how to get into the industry, and it gave us the chance to discuss the jobs we had available. All in all, it was a really enjoyable day – a refreshing change to get out and about at events again and also to spend quality time with my team out of the office. We aim to be exhibiting at the show again next year".
Ollie O'Driscoll our Recruitment Team Leader also attended the show on both days, and this is how he found his experience. "This was my second time at the Farm Business show at the NEC, and it was great to be meeting with current clients and candidates and discuss our range of services with prospective clients and job seekers. A great couple of days out with the team and an opportunity to get an insight to our ever-evolving industry".
Our Principal Recruitment Manager, Sophie Ashmore, attended day 1 of this year's Farm Business Innovation Show, and she said "It was great to be back out meeting with clients and candidates – old and new at this year's Farm Business Innovation Show. The show was very successful for us all and I'm really looking forward to the next one".
Angel Bains our Marketing and Events Executive has said "What a great experience I had at my first ever Farm Business Innovation Show. I enjoyed being able to meet with people face to face and develop my industry knowledge".
The team all enjoyed their time at this year's Farm Business Innovation Show and had a great experience. We are aiming to attend and exhibit at next year's show, so please keep an eye on our LinkedIn for more updates on this.
​